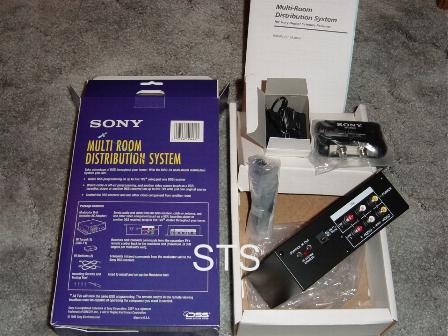 MRD-D1
MULTI-ROOM DISTRIBUTION SYSTEM

SIMPLIFIES MULTI-ROOM INSTALLATIONS, EASY TO CONFIGURE

ENABLES TWO SOURCES, TO SUPPLY MULTIPLE TV SETS ON TWO DIFFERENT CHANNELS .

Use your existing TV remote controls.
WORKS OVER STANDARD COAXIAL CABLE, the kind already in
use for TV distribution in many homes (RG-59); there's often no need to re-wire.

DISTRIBUTES A SECOND VIDEO SIGNAL from a VCR or DVD
Videodisc player - or even a second Digital Satellite Receiver.

DISTRIBUTES DIGITAL SATELLITE RECEIVER/ VCR/
VIDEODISC OUTPUTS AS TV CHANNELS for reception on any
standard TV set -- similar to connecting a VCR signal as TV Channel 3 or 4.
Frequency-agile RF modulators can use a variety of unoccupied midband or UHF channels
DBS/ VCR/ VIDEODISC REMOTE CONTROL FROM A
DISTANT ROOM using the supplied EAC-T1 Infrared Target, which
transmits your wireless remote control commands from the distant room to
the main room over the coaxial cable; Additional EAC-T1 targets are
available as optional accessories.

AUDIO AND VIDEO LINE INPUTS for the two video sources.
TWO RF OUTPUTS for TV sets less than 50 feet away; can be split to accommodate multiple TV sets.
THREE RF OUTPUTS for TV sets more than 50 feet away.
HIDEAWAY DESIGN can be placed on a shelf.
I use the Sony myself for many years, AV#1 input for a C-Band satellite TV system and
AV#2 input for a Sony DBS system. Selected UHF Analog Channels 30 and 33 for three remote TV's

Specifications:
RF INPUT: "F" type female coaxial
VIDEO INPUT: Phono type (2)
AUDIO INPUT: L/R phono type (2 pairs)

RF OUTPUT: "F" type female coaxial
2 for TV sets closer than 50 feet, 3 for TV sets further than 50 feet
POWER CONSUMPTION: 7W, maximum
POWER REQUIREMENTS: AC 120V, 60 MHz
Includes One IR Target and Two IR Emitters

Originally sold for $249
Save Over 70%!
Temporary Not Available
---


Home
All sales are final.... Warranty covered by the manufacturer.